Trip Report – November 2019 – Copenhagen (including a few hours in Malmo/Sweden), Hamburg, and Berlin.
Flew into Copenhagen (30K United miles, nonstop from IAD on SAS, which was safe/comfortable though surprised had to pay for beer/wine with dinner, and not cheap). Arrived early side, so we took a 30-minute train (machines accept US credit card w/o PIN) across the border to Malmo, Sweden (mostly to check off the country). We left our bags in a locker (accepts card) at beautiful train station and walked around the downtown area. It was Sunday morning so it was dead, but strolled around a few squares (Stortorget and Lila Torg) and had a great hotel breakfast at Skandic Kramer (almost no cafes were open).
Copenhagen
After a few hours, we took the train 45 minutes back to Copenhagen (another great train station), and walked to our solid hotel, Comfort Hotel Vesterbro (if you can get a good deal with breakfast, I'd recommend it). We walked around the center area (Stroget) checking out sights from the outside. We had dinner about a half-block off Stroget in Restaurant Tight (recommended). Drinks-wise, we later went to the tremendous world-famous Mikkeller brewpub near our hotel and found a great speakeasy called Curfew. It was Sunday so many spots were closed and things were chill. The next day, we went to the Rosenborg Castle, which had a nice interior, cool moat, and beautiful crown jewels in the cellar; next Nyhavn harbor area and took the Nettobådene boat tour (about an hour, not that pricey) which gave us a great overview of the city on the water. We had lunch at the food court on the top floor of the Illum department store, which is pretty deluxe but not any more expensive than the rest of the town. Later, we walked over to the meatpacking district and had a fantastic seafood dinner (new Nordic style) at Kødbyens Fiskebar, beers at the nearby WarPigs Brewpub (a collaboration with Mikkeller and the acclaimed Indiana brewery Two Floyds), and a fun couple hours with some locals at Freddys Bar (very old-school spot) back in Vesterbro. The next day we checked out the National Museum of Denmark which had great Viking-era artifacts though wasn't a fan of the layout. Food, drink, and taxis in Copenhagen is expensive as advertised. Entrees at mid-range spots are around $30, craft beer pints $10-11, basic cocktails $13, fancy cocktails $20. A cab to go 1 mile $15. Still, includes tax + tip so not terrible and worth it (Carlsburg beers at grocery/convenience stores were a couple of euros, very cheap). The card is accepted everywhere so we actually took zero Danish kroner out of the ATM while we were there.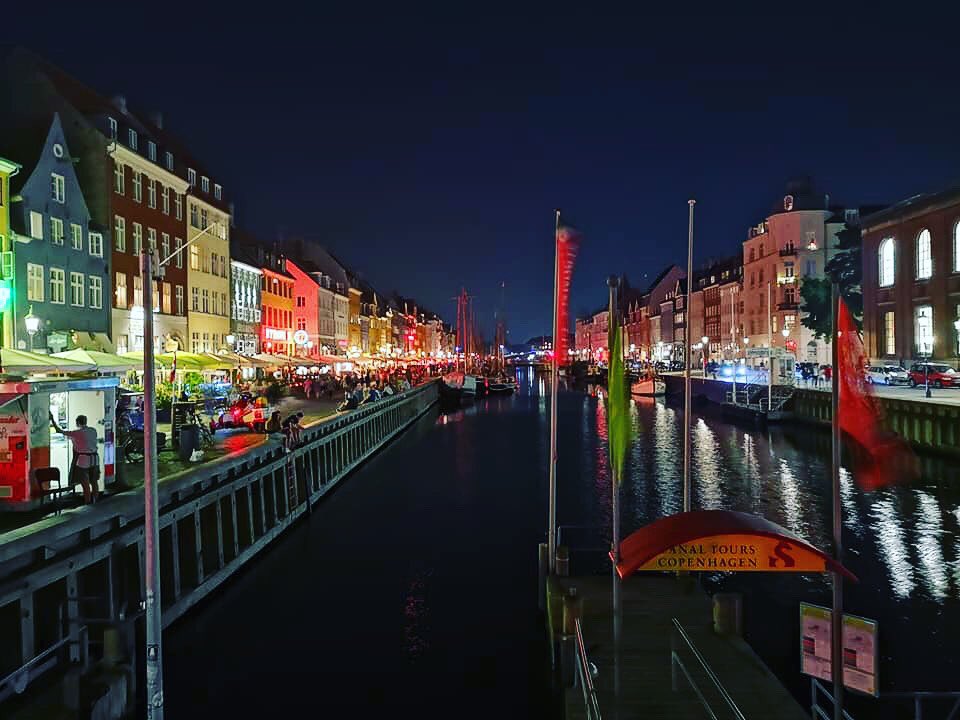 Hamburg
After two days, we took a train to Hamburg, sorta. There's no bridge for the most direct path (yet), so our train literally drove onto the bottom level of a massive ferry boat, we got out for a 45 minute cruise across the North Sea (ferry had two restaurants and huge store), and then got back on the train for the rest of our nearly 5 hour ride to Hamburg. It was only about 30 euros booked way in advance. Hamburg was mostly about spending family time (my half brother in family lives in the suburbs), but we checked out a few